Booking now for 2023
Sooth East London / Kent based guitar player working with a number of different acts. I have been active as a musician in this area for over 50 years working with a wide range of local artists
John Cunningham and Steve Shorey dates
January 24th, Dartford Folk Club - Supporting the Bully Wee Band . 8.00 Start
February 24th, John and Steve perform ' Man of Straw' a story in song and spoken word at Christchurch Church Dartford
March 11th, John and Steve play their normal show in aid of the Salvation Army at Brookers Oast (Function Room)
May 5th, John and Steve perform ' Man of Straw' a story in song and spoken word at St Edith Folk
The Stevedores (Ukulele trio) dates
March 4, Private function Sidcup
July 15th ,Doddington ukulele festival (details to follow)
Skinny Malinki (50s Band) dates
March 24, the Ivy Leaf pub - Dartford (charity fundraiser)
The Stevedores are unlike any ukulele trio you have heard before! - playing a mixture of toe tapping swing, jazz, pop and original material. All three of us are accomplished musicians with decades of experience.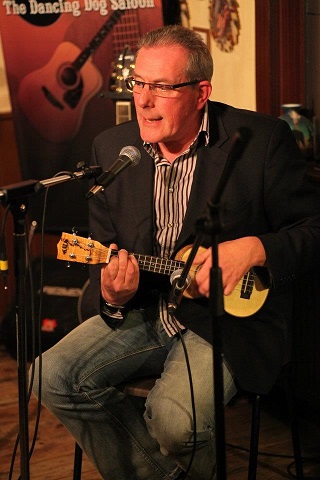 STEVE BALL - Steve is the founder of the Stevedores and has been performing live since the late 1970s playing bass & guitar in many different styles. He was a touring professional double bass player in various swing bands in the 90s including 'Laura B and The Moonlighters'. He runs a number of live music events including the "Ukulaviators Ukulele Club" and teaches ukulele, guitar & bass. Steve is also an accomplished songwriter and the Stevedores perform many of his compositions in their set.
STEVE 'SHORRELLE' SHOREY – Steve has been a guitar player on the Kent pub and club circuit since the early 1970s - clocking up 1000s of gigs. After meeting Steve Ball in the early 2000s he decided to spend some time brushing up his ukulele technique. Over the last 10 years he has worked extensively with Steve B' in a number of bands – always with a ukulele element !. His crossover ukulele technique based on many of his guitar licks makes for a unique style.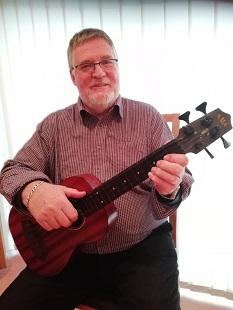 JOHN BOGG – John is not a 'Steve', but as ukulele bass players are quite rare we don't hold that against him !. John is a classically trained musician and retired music teacher with a CV going back a long way (yes he is that old). John is involved in a number of local ukulele bands, choirs and also plays piano and
organ....but not in this band !
Over the last 4 years the band has received glowing reviews from ukulele festival and club promoters .....
We had never heard of 'em, but the audience soon sat up and took notice when they started to play. These guys kept us entertained with their instrumental and vocal skills. Smooth, upbeat and humorous, what a talented trio! Kind regards Pam, RYE UKULELE FEST 2019
"The Stevedores, were once a duo but now a trio. The originals were both called Steve and hence the name. Now with an added musician called JOHN!!. What can I say, except they are a polished, humorous, talented ukulele performers who write there own music performing it with panache and vibrancy holding their audiences attention" Derek, Brighton 'Paddle Round The Pier' ukulele stage 2019
Hi Steve. Just wanted to say how much we enjoyed the Stevedores Trio at the festival. I think we got the running order wrong and you should have headlined on the Saturday Evening. We have had so many comments about how good you were. Please send our thanks to Little Steve and John as well. We'll keep you posted about next years dates. Had the CD playing in the car today, great !!!!!. Regards Mick the Steward - Southdown Folk and Ukulele Festival 2019
Regarding the Stevedores led by the excellent Steve Ball I would like to endorse what all the audience have said about this excellent ukulele trio. I have seen them perform many times and featured them at The Bob Hope Theatre Music Night. We always hope to send our regular 40+ audience home on a high. This The Stevedores did and more. They are funny, well rehearsed, and simply put: Can they play ukes?- not 'alf. Can they sing?- not 'alf. Can they entertain? – not 'alf. Are they user friendly? – absolutely. I would recommend them to anyone wanting something different that hits the spot. John Stevens Bob Hope Theatre Music Night Promoter (Eltham)

Book 'The STEVEDORES' for your ukulele club, festival or anything you fancy and you will be assured of some great entertainment. We can also combine performances with Uke workshops (all levels) and Jams so that everyone can join in ! . Email - info@baileyscat.co.uk now
Our CD Sampler on Soundcloud is here
Here is clip of us at the Brighton 'Paddle Round the Pier' ukulele festival in July 2019
This video clip is of the 2 Steves having a play during the Covid lockdown of 2020 when only 2 families could meet outside !. Even the Parakeets joined in..and the audience went wild (well both of them!)
Email me at steve.shorey@ntlworld.com , or Facebook Steves Homepage
Please reference me if you use any material from this site - some material is clearly in the public domain but some is my own copywrite (so ideally ask permission first)